Izakaya Yuzuki became an instant favorite of mine, the first time I had the Tsukemono, which they ferment in 'Nuka', a rice bran product, that informs all of my best experiences with Japanese food, every dish rang true to what I had come to know, through my grandmother's preparations. On my recent birthday, Rob, my friend and frequent dining companion surprised me with a trip to Yuzuki, along with our friends Kevin and Hiroo, we found ourselves being treated to an 'omakase' feast and it was amazing.
To start off, we ordered some beer, the Ozeno Yukidoke IPA, which was a surprisingly good, almost West-coastish IPA, with excellent malt body and great hop bitterness and aroma. Then, we had to order a bottle of sake, it is an izakaya, after all. And we found, much to my surprise a Junmai Daiginjo, the highest rating for a sake, and it was from Hiroshima, the place in Japan that my father's family originates from, it seemed appropriate, as my dad and I share a birthday.
The
Maboroshi Kurobako
(Junmai Daiginjo Genshu) is rather a unique and delicate sake, something that was a wonderful accompaniment to the meal.
And on to the food. One of the great things a chef can do, especially with a large tasting menu, is to take you on a journey, the way the food is served, the order in which dishes appear, it can all tell a story of what the kitchen is seeking to do. This would end up being a 15 course tasting menu, with a deft and subtle path.
Course 1: Zaru Tofu - made in house, a soft textured and very subtle tofu, served with Maldon sea salt on the side. This is unlike any tofu you can buy in a store.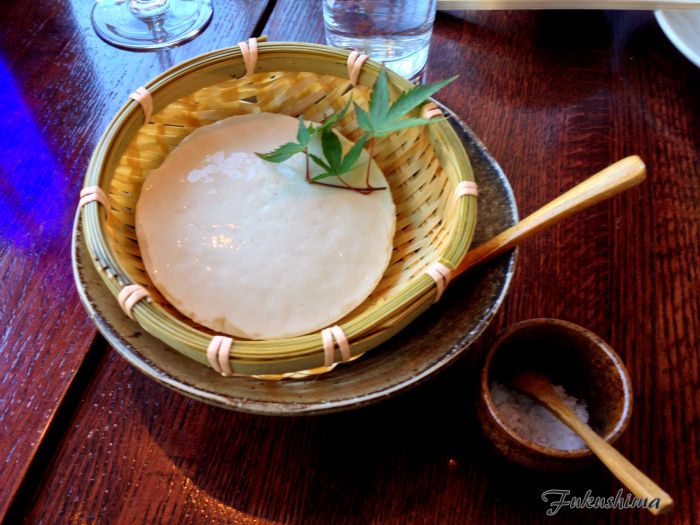 Zaru Tofu with Sea Salt
Course Two: Pirikara Cucumbers - Fresh cucumbers, that are marinated is sesame oil and shichimi pepper powder, a delicate, almost pickle-like preparation, with a hint of heat on the finish.
Pirikara Cucumbers
Course Three: Ika Shiokara - This dish was squid that had been marinated in salt and squid liver, along with some ikura (salmon roe/bait), flowers, and micro Shiso leaves. It was amazing the impact of the Shiso on this dish.
Ika Shiokara
The detail of the knifework, stunning
Course Four: Satsuma Age - a fried fish cake (rock cod and shrimp) with vegetables, and this was of exceptional quality, very light and tender. fried just enough to be crisp. We make this at home, but, nowhere near this level of skill. Honestly, the best example of this dish I have ever had.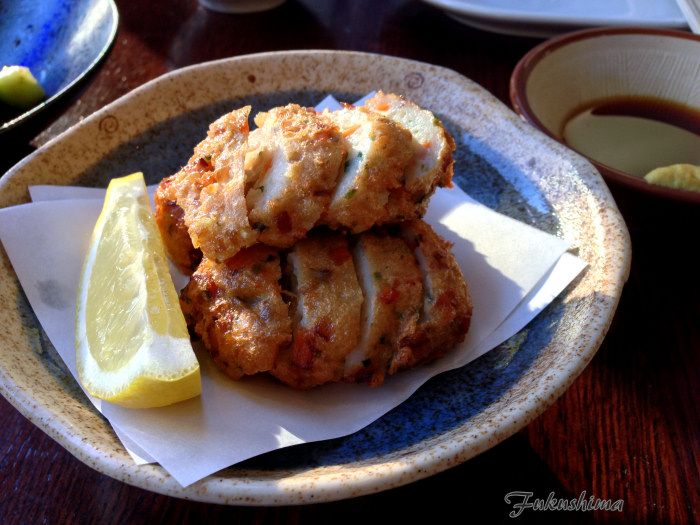 Satsuma Age
Course Five: Karage - Chicken marinated in Shio Koji (a salt and fermented rice mixture) then deep fried. For some reason, no photo was taken.
Course Six: Aji no Hiraki - now, in any situation where you give up control of the menu, there is a risk that something you detest might show up. This was that dish. I hate mackerel, can't stand it. So, here was a Shio Koji cured, air dried and grilled mackerel. Yay... With the spine grilled and eaten like a cracker...double yay...I have no idea how good, or bad, this was.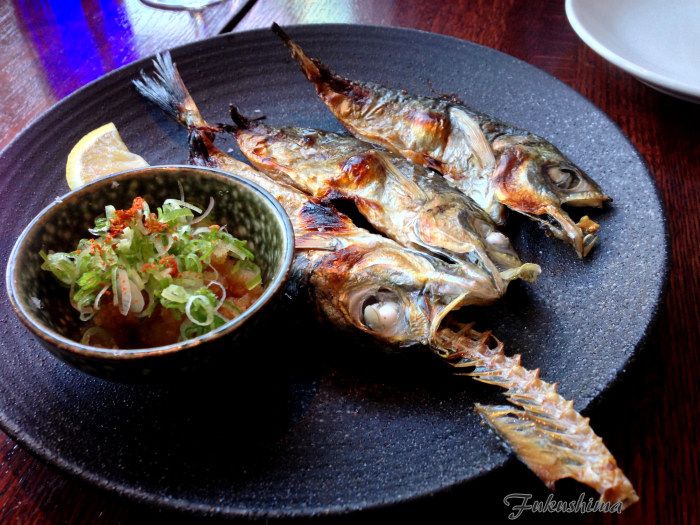 Course Seven: Tsukune and Negima - Shio Koji cured chicken meatball and chicken with scallion, known as standards of Yakitori, this was a welcome dish, after those mackerel. Chef uses an exceptional 'tare' (think of this as a bbq sauce/glaze) to create additional depth of flavor and color. Hiroo, who is something of an expert of traditional Japanese foods and I, a dilettante at best, agreed that this was cooked over 'Binchotan' charcoal and quite properly done.
Negima (back) and Tsukune (front)
Course Eight: Yaki Surume Ika - This time, squid cured in Shio Koji, then grilled and presented with a 'Yuzu' mayonnaise. Yuzu is one of the main flavoring ingredients in Japanese cooking, a small citrus, it is incredibly aromatic.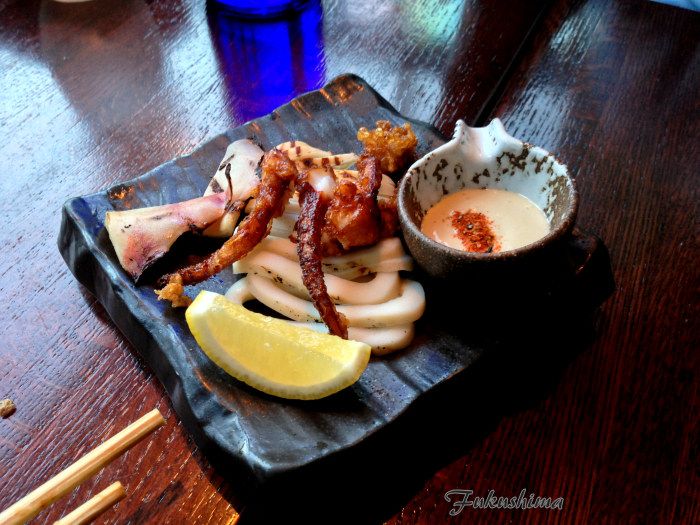 Yaki Surume Ika
Course Nine: Obanzai - Vegetables cooked in the Kyoto-style, three ways, and I had a little trouble here, as I could not figure out any vegetable in the tamagoyaki, it tasted like egg wrapped around eel, which makes no sense, although it was delicious. I have no idea what the middle dish was made from, and the sweet potato was delicious. Sorry, by this time, I was just eating away.
Some stuff cooked in three ways
Course Ten and Eleven: Two Rice dishes and Tsukemono - my favorite dishes at this restaurant, and I feel best eaten together, although that is quite 'village' of me. Tsukemono, the traditional 'nuka' fermented pickles, along with the Koshihikari rice, cooked in traditional ceramic pots, presented with clams, or with Hijiki and cured vegetables, I added the tsukemono to mine.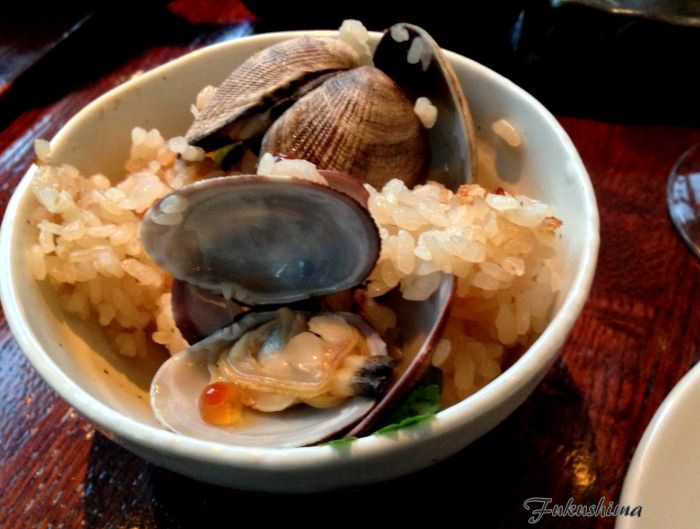 Koshihikari Gohan with Hamaguri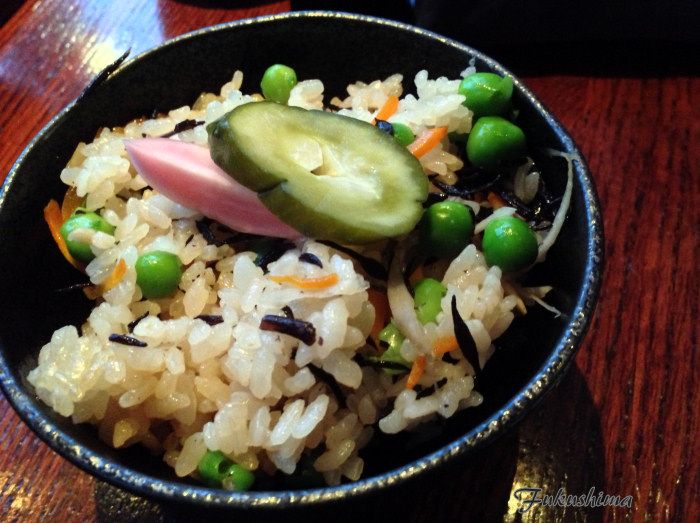 Koshihikari Gohan with Hijiki and Tsukemono
Course Twelve: Chawanmushi with Uni - also known as the palate reprieve, another classic of Japan, a very delicate egg and 'dashi' custard, with uni floated on top. It was my sense that the herb Mitsuba was also there, in the leaf floating on top. Mitsuba is a great addition to any broth or stock, adding a nice herbal touch.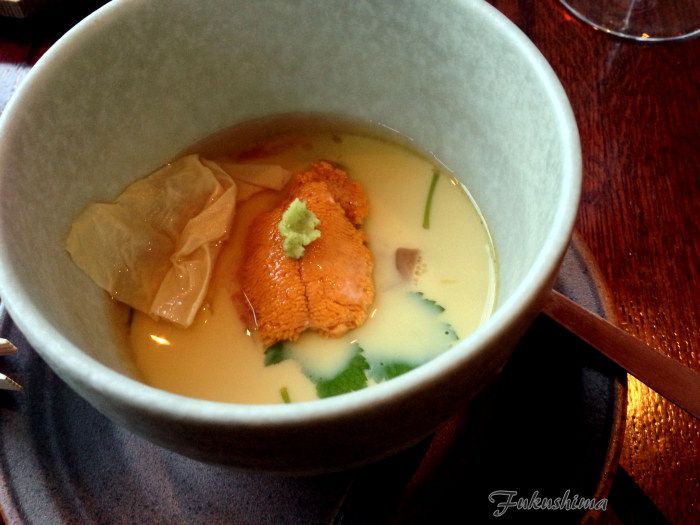 Chawanmushi with Uni
Course Thirteen: Kobe Beef Tataki - raw Kobe beef, presented with a bright onion salad and a yuzukosho miso sauce. Yuzukosho is a mixture of pepper powder, yuzu peel and salt. It added a nice punch to the fatty raw beef. And yes, it is a terrible photo.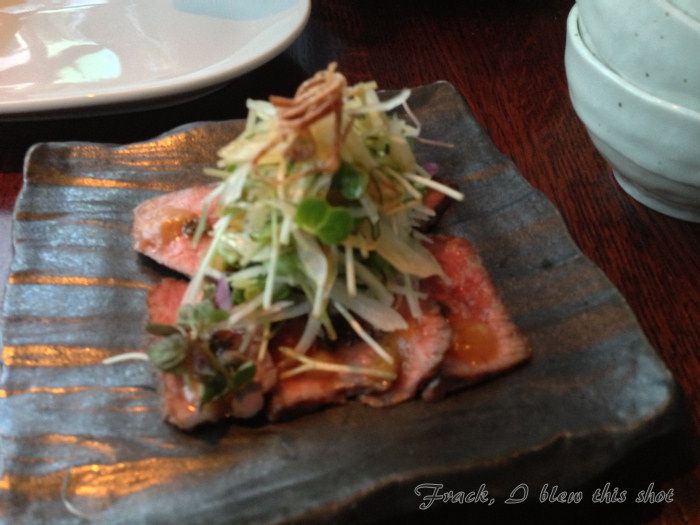 Kobe Tataki
Course Fourteen: Kakiage - We had seen this dish walked past our table several times, and it was beginning to become a problem. It looked so good. Essentially it is shredded root vegetables and meat, in this case, shrimp, that are deep fried in a 'Tempura' batter. I grew up with this, but, not with this level of refinement. But, the flavors reminded me of many dinners with my grandmother and mother, both of whom loved this dish, hence, it means a lot to me. The Daikon-oroshi is mixed into the sauce, the lemon is squeezed over the fritters and then the green tea salt is sprinkled on.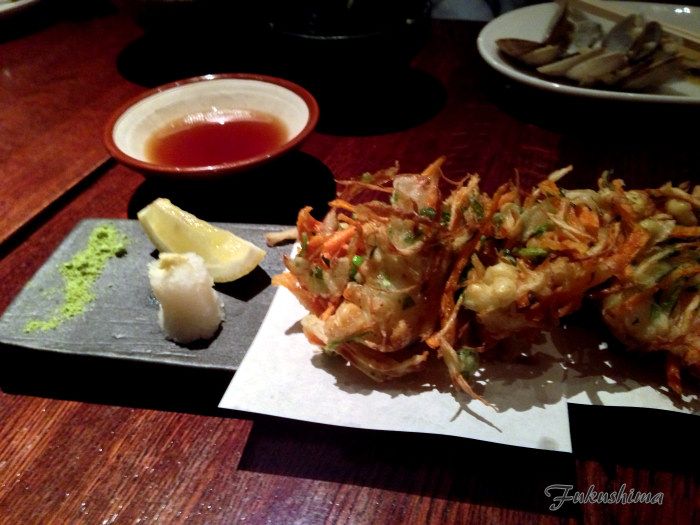 Kakiage
Course Fifteen: Yaki Omusubi - Grilled sweet rice balls with a compound butter of soy and uni. To say this is unusual as a flavor combination is understating. But, the rice was perfectly grilled and flavored with the 'Tare', the butter was incredibly rich and flavorful. We had to ask the kitchen to stop at this point.
Yaki Omusubi
This was a meal to remember, with every dish being executed with tremendous skill and care. So many of the dishes speak to me, perhaps in a language far more sophisticated than I am used to, but, in the flavors, aromas and compositions that speak to me of my family and childhood. It was a most thoughtful and amazing gesture on Rob's part. And it reaffirms my belief that this is one of the best restaurants in San Francisco.