Madness, guest cooking two pop-ups in one week, but, this time it was food prepared by the good folks at Trace Restaurant, along with the head chef of the Chairman (Bao) food truck and Chef Nagahara. If you are unfamiliar, Trace is the restaurant and lounge in the San Francisco W Hotel, The Chairman is the food truck that has made a splash in San Francisco, selling Gua Bao with a Western twist and Chef Nagahara is the chef who consulted on the original menu for The Chairman Truck (nee The Chairman Bao Truck).
And again, far too lazy to haul my good camera on BART, I missed a couple of course, and blurred a couple of others. Still, you can get an idea.
Roasted Corn Flan, Sweet Potato, Lotus Root, Yellow Curry
Starting with some passed appetizers, I missed a shot of the marinated Hawaiian Albacore with apple, mustards and Battera konbu. But got this shot, overall, on the sweet side, a play on the sweet Japanese version of curry.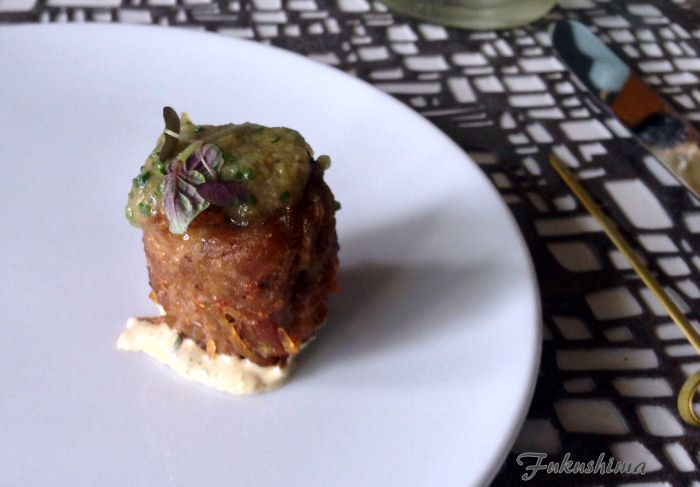 Duck Tater Tot, Pekin duck, Shiso Bernaise, Citrus
Obviously, a play on tater tots, but, meaty, crispy and meaty, with the brightness of Shiso and citrus playing counterpoint to the richness of the duck. It became clear that this menu would be far more whimsical than the experience at Parallel 37.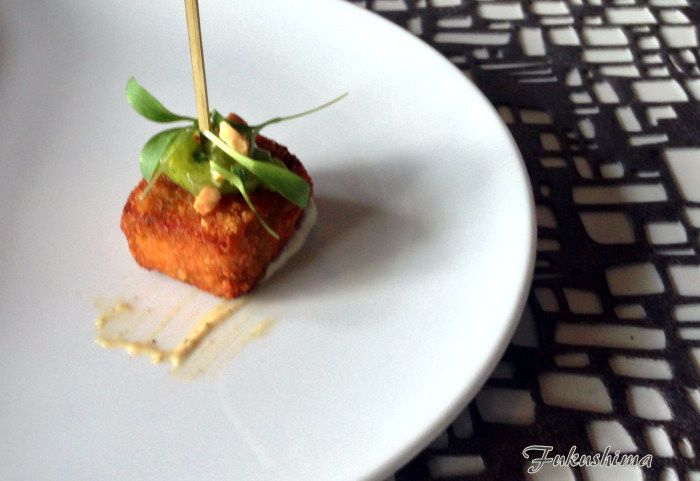 Chicken Nugget
Seriously, a chicken nugget and it had the right texture and crunch, although far more flavorful, with Cucumber and peanuts adding to the umami of the dish. Did I mention that this was a 13 course tasting for $40?
Feesh, I don't really dig feesh
And here, yes, a salmonid, my least favorite of non-favorite food, although, this was perfectly cooked char, with Kanzuri, Sunchoke puree and Red Shiso. I am really digging the appearance of the Shiso sprouts, whereas I find Shiso to often be over-powering, the sprouts are perfect, punchy herbs. I will be sprouting these soon. For those wondering, Kanzuri is a red pepper paste, with Yuzu citrus, and shio koji added.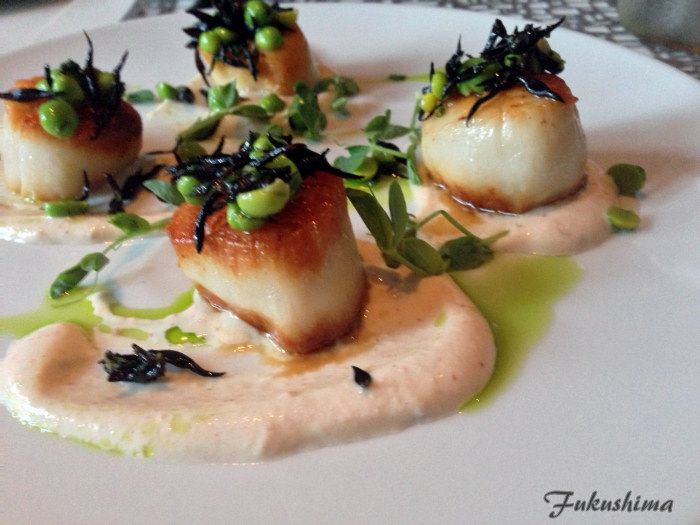 Now, this, I can enjoy
Scallops, diver scallops, seared and with English peas, Hijiki and spiced Greek Yogurt. Yes, this was really a $40 dinner and no, I did not get to eat it all, this was family style. It was fun to see what a food truck can do, when a real kitchen and a full staff is suddenly available.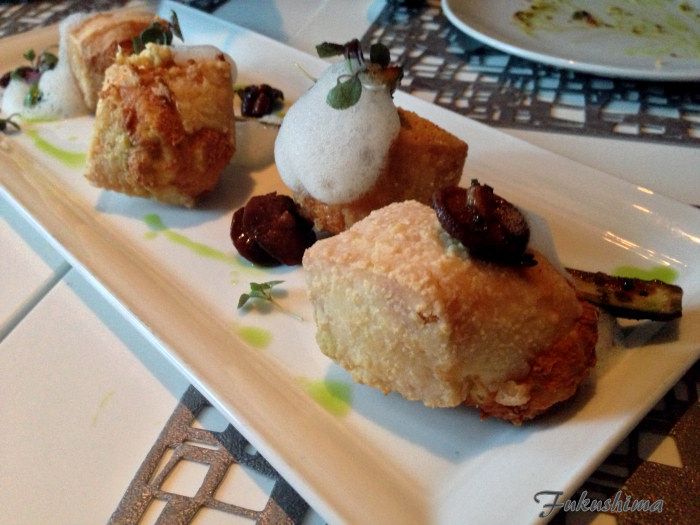 Tofu and stuff
House made tofu, and I got to hear the chef of the Chairman truck discuss how making tofu is not his favorite thing, but, this had a great texture and flavor. The effect of taking the time and extra effort to really craft a food item shown through on this dish. Accompanied with tiny squash and tiny Shiitake, this was a very savory dish. The interaction of a food truck and a restaurant was particularly intriguing, as the age of innovation that was spurred by food trucks is slowly ebbing back into many kitchens.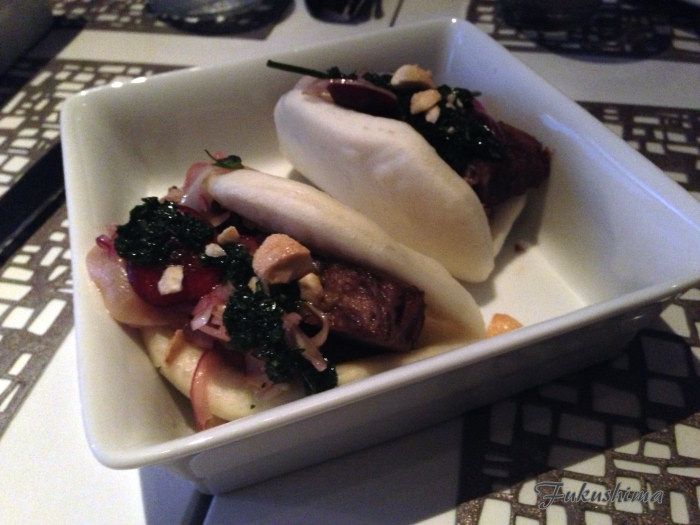 Gua Bao, well, it is The Chairman Truck
The standard for the Chairman, and incredibly well-conceived gua bao. Roasted leg of lamb, Fresh cherries, Marcona almonds and Mint, a rich dish, again, balanced with the acid of fruit and the bright herbal flavor, this time from mint. One thing I have noticed, is that the innovation that once was the hallmark of the food truck business has slowed, with more and more trucks seeking to sell what sells, and not being about young kitchen turks turned privateers. Could another trend be forming?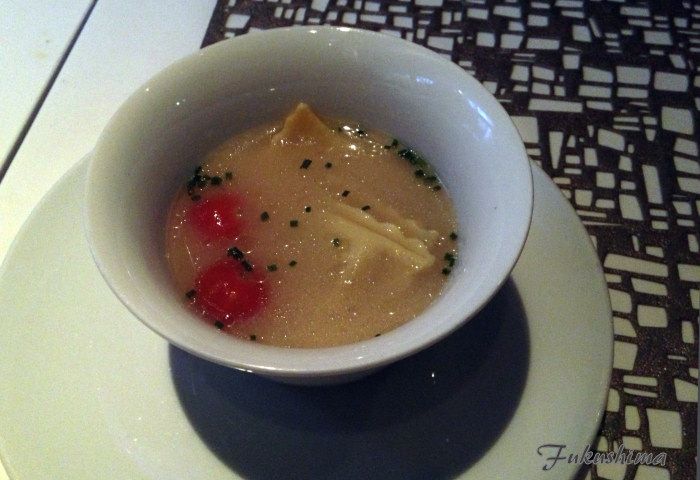 Soup in the middle
Yes, a soup course, mid-dinner, in this case, Charred Eggplant Agnolotti in a Miso soup, with pcilled cherry tomatoes. What a dish, spectacular. Yes, the odd little soup course, killer dish of the dinner. The pickled tomatoes (which were all peeled) along with the agnolotti and a pure miso shiro, flavor bomb of the dinner. Chef hit this on the head, the slight bitterness of the charred eggplant playing against the sweetness of the miso, and the tartness of tomato, balanced perfectly. I live for those items on a menu, or in coursing, that turn my head. Something like this, not a fancy or huge course, yet, perfectly achieved.
There was this rockfish plate, no photo, it was good.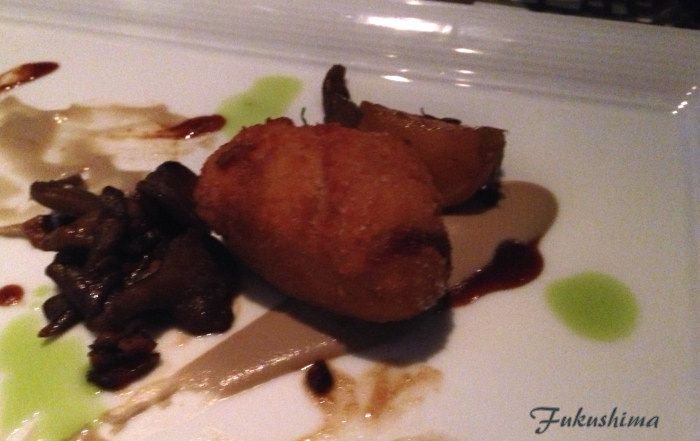 Yum, gland meat...
I am a texture eater, and contrary to what it might appear, I am a picky eater. But, I have a theory that I have to at least try and eat everything presented at a tasting. And hence, I ate this dish, Sweetbreads with Japanese Turnip, Maitake Mushroom and Red Miso. And other than the sweetbreads, a texture I really dislike, everything was delicious. I would rather eat fish.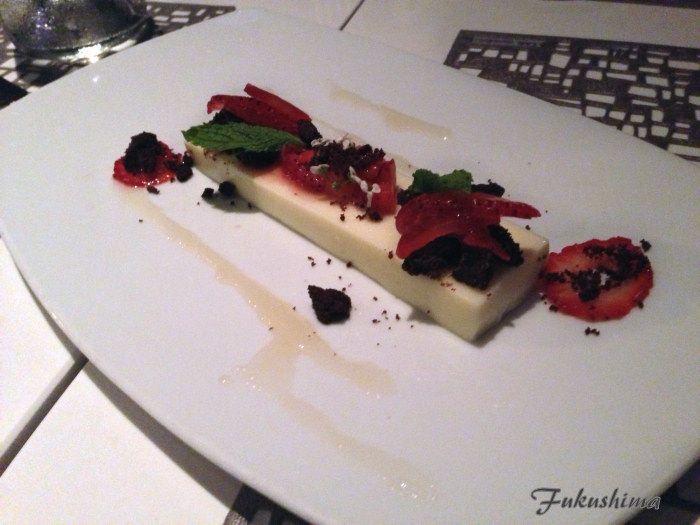 Dessert, YAY!
Actually, that would be First Dessert, a White Chocolate Namelaka, with Chocolate Sea Salt and Honey. Namelaka, a Japanese creamy dessert, in this case, much like Panna Cotta, with an amazing white chocolate flavor and chocolate sea salt, so good. The strawberries did not hurt this dish either. Dessert should be spectacular. It should carry you forward with a final memory of a great meal. Not everyday, but, after something like this, it should really create an image of the dinner journey. This wasn't that dessert.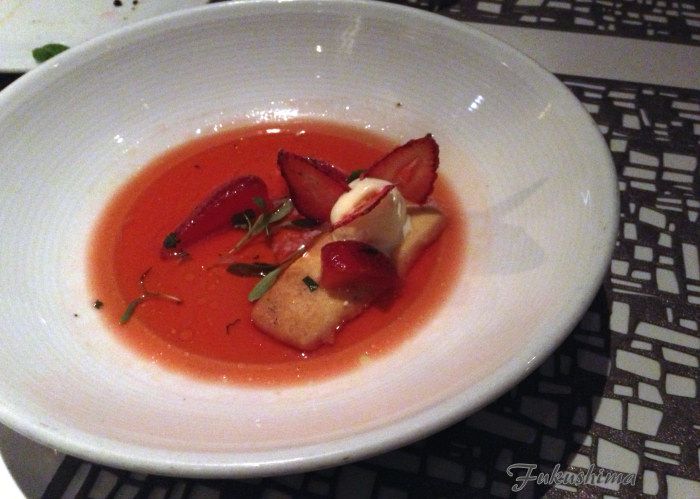 Second Dessert
This was! A extraction of strawberries, made into a sauce almost like a soup, with a slice of olive oil cake, and the hints of Earl Gray tea and Lavender informing the sauce beautifully. This was, all at one, savory, sweet, fresh, herbal and lingering. This was what you wanted to walk away from the dinner tasting, a long finish to a meal.
Over the course of two dinners, I got to see one chef influence two meals, telling his story, first in a brilliant technical presentation, using every skill and nuance, painting each dish with beauty and presenting his vision of how science, traditional Japanese food stuffs and fine dining can meld into one dinner; and the second dinner, whimsical, with humor and simplicity, working with simpler ingredients and quicker platings, still telling of his vision of using modern techniques and old world ingredients. With the added fun of the guys from The Chairman, creating that one bite hit, so important to a food truck, can easily translate to a dinner plate.