First off, I want to apologize for the photos, if this had not been such a great dinner, I would have buried these shots. I was lazy and should have brought my real camera. The dishes plated by Chef Nagahara and Chef Rotondo deserved a better photographic effort. No matter, one to the food.
Last night, I had the opportunity to dine at Parallel 37, the restaurant located within the Ritz-Carlton Hotel in San Francisco. Far from your standard hotel restaurant, Parallel 37 has brought in Chef Michael Rotondo, formerly with Charlie Trotter in Chicago, to create a destination fine dining restaurant in the middle of San Francisco. For this dinner, he joined forces with Chef Hiroo Nagahara, who was the Chef de Cuisine at Bar Charlie, former coworkers under the Trotter helm, this was their chance to share the spotlight again. We partook of the 6 course Tasting Menu, along with the pairings, which allowed the somellier, another associate from their Trotter days, free reign in the cellar. And he hit home run after home run with that access. A few prep scenes...
Chef Nagahara and assistant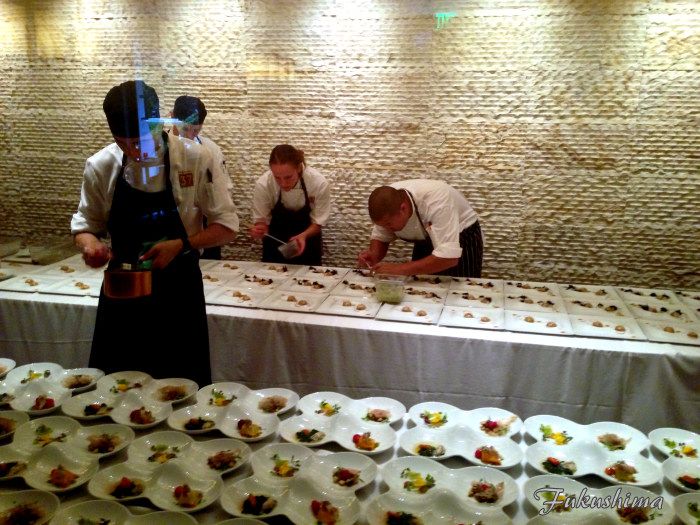 Details, details, chefs at work!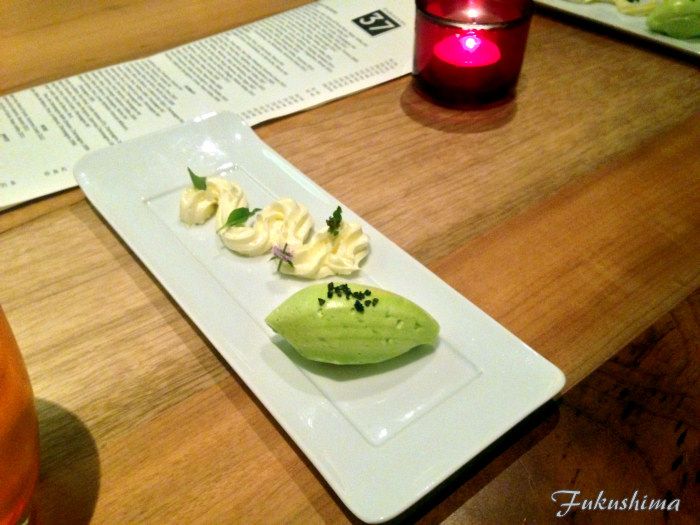 Butter
Why am I showing butter? This was no simple butter, there was a beautiful and subtle herb butter and an amazing quenelle of compound butter, that has a distinct hit of umami, and a nice coarse salt, it showed early, that this would be a dinner where the details were taken seriously. There was also a Lemon Basil Aperitif that was a great opening statement that was mixed by the bartender.
The Amuse Bouche-Grande
Pairing: Henriot Blanc de Blanc NV Champagne
This was the largest amouse I have ever seen, and sadly, I can barely remember anything about what was on the plate, as eating commenced prior to listening.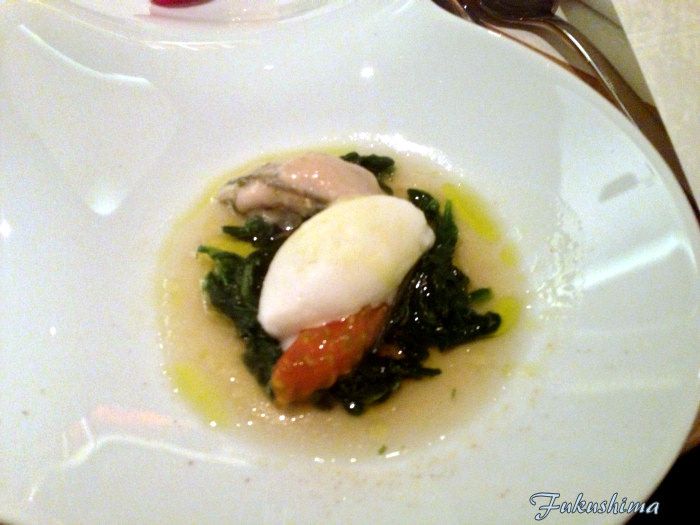 Amuse Part 1-Oyster, Tomato Pulp, White Stuff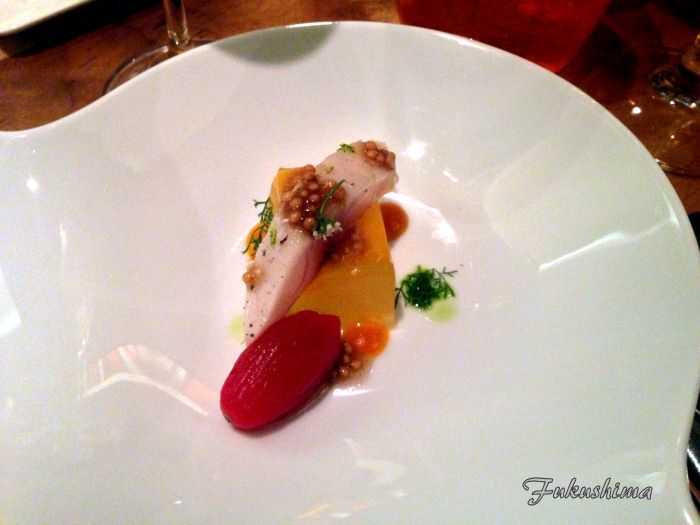 Yuzu-cured Hamachi(?), Tomato 'Aspic'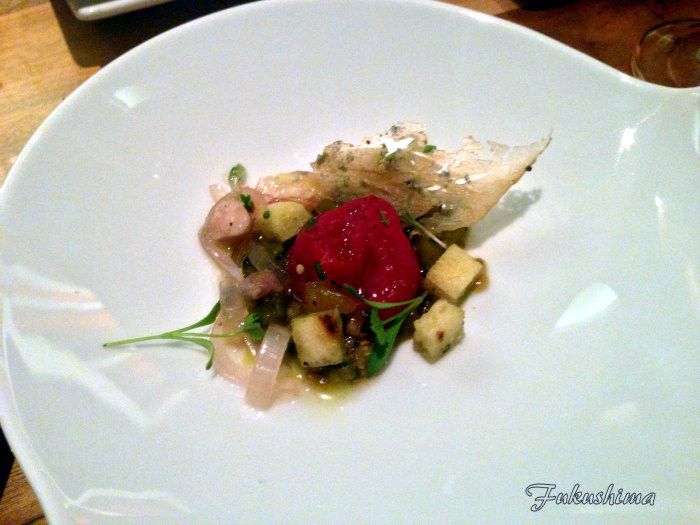 This was delicious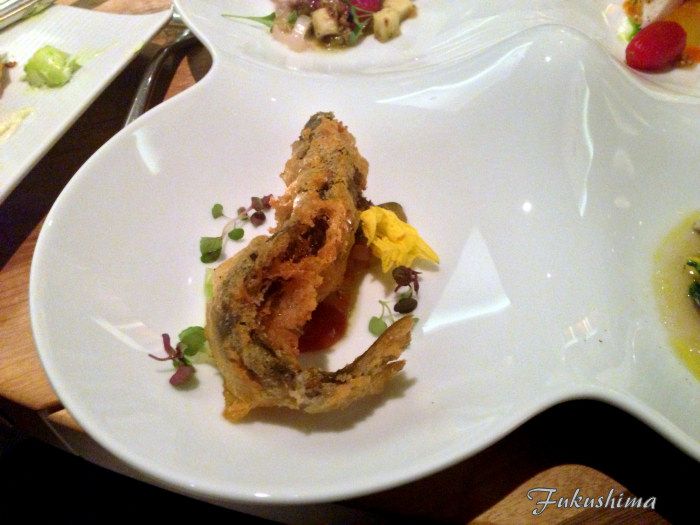 Ayu Tempura
That last dish, largely, was why I have no clue what I was eating as the Amuse. Ayu, a small fish known largely in Asia is considered a delicacy in Japan, to see one in the States is quite unusual, and the presentation was striking. Plus, the tomatoes are such a favorite of mine, to see how the chef's wove this amuse together was a joy. Sometimes you just eat.
First Course: Dungeness Crab, Radishes, Amazake, Junmai Dainginjo Sake.
Pairing: Conreria Dei Scala, Brugeres, Garnacha Blanco, Priorat 2011
No, it is not soft roe
This dish should have been photographed prior to the amazake being poured over. The Dungeness crab was served chilled in gel, there were baby radishes, Hijiki (a form of seaweed) and the sweet amazake poured over it all. Beautiful and delicate. The pairing was brilliant and not standard in any way, the Garnacha lending it's typical generous and flashy aroma, and a great earthy palate, but, minus the tannins that results from being on the lees.
Second Course: Sonoma Squab, Liver, Strawberry Juice, Ham Essence
Pairing: Franz Hirtzenberger Rielsing, Smaragd, Wachau 2006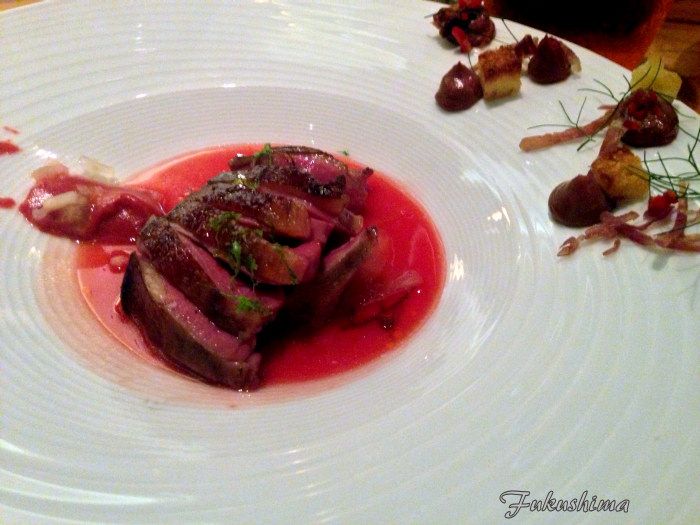 Not Blood
A breast of squab, perfectly roasted to rare, with a nice crispy skin, technique, subtle and perfect. The liver dots with fennel and croutons, which looks like an afterthought, added texture, crunch and herbal notes, that worked right in with the sqaub. The strawberry juice was pure sweet berry and the ham essence kicked in salt and crunch. A beautifully conceived dish. The Riesling, which had some age on it, worked beautifully as a pairing, quite typical of an Austrian Riesling, the layers of fruit, mineral, acidity and slight petroleum played across the squab and liver, and was lifted by the berry. A great match.
Third Course: Tamba Kuromame Tofu, Aori Ika, Peaches, Lemon Verbena
Pairing: Yves Cuilleron, Viognier, Rhone Valley 2011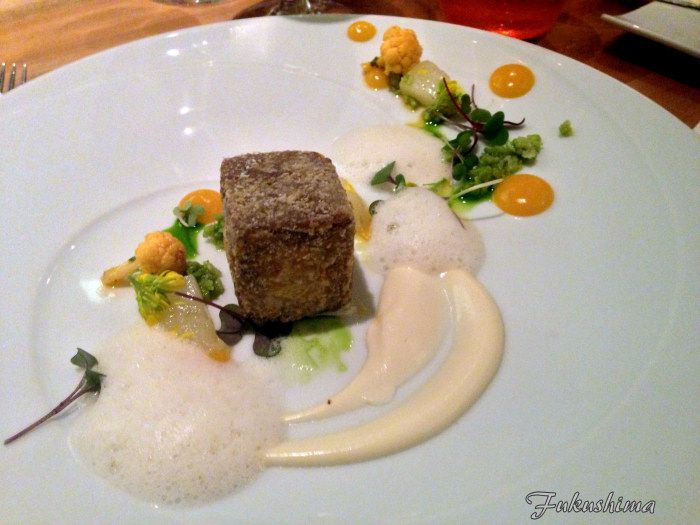 I Love Tofu
This dish, a tofu made with kuromame, the black soybean so integral to Osechi Ryori, the New Years meal, and an ingredient that is a favorite of mine, exemplifies what I consider to be the crossing of technique and the visceral sensation of a dish so familiar. This dish took a lifelong favorite and presented it in a way that was totally unfamiliar. Black tofu, fried crunchy, so rich and perfectly played off of the cauliflower, peaches, ika. For me, this was where the dinner hit on every note. There could not have been a better dish, speaking to me on every level. The pairing with the Viogner seemed odd to me, but, once tasted, I realized that this was not typical German summer wine, this was Rhone to the core, with a slight funky earthiness, and stony backbone, the stone fruit picking up the peach, a great pairing for a difficult pairing.
Fourth Course: Kagoshima Shiokko, Bing Cherries, Summer Beans, Pink-tip Parsley
Pairing: Beaux Fréres, Pinot Noir, Beaux Fréres Vineyard, Willamette Valley, 2008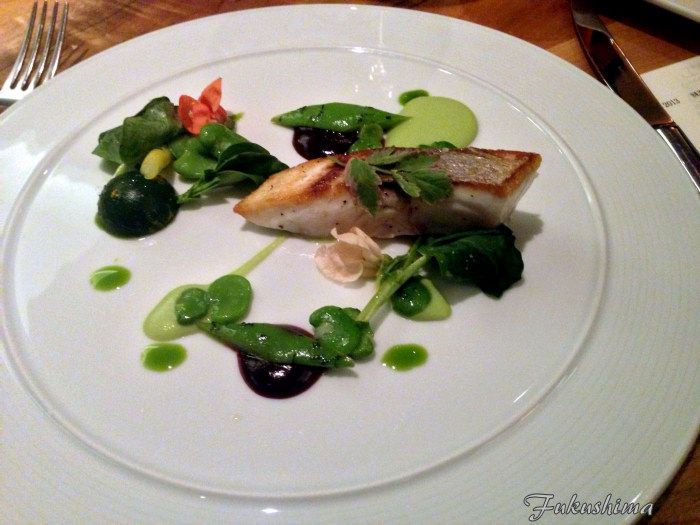 I hate fish
To be clear, Shiokko is Young Amberjack, and this was perfectly seared. The initially odd combination of cherries, beans and parsley just worked, playing sweet, herbal, earthy against the mild fish flavor and the toasty undertones from the sear. As to the wine pairing, Beaux Fréres rarely misses, but, this Pinot is one of the best bottlings you can find in Oregon, the best of Oregon Pinot noir, smooth, silky yet distinctly New World. The fact that it had a little age and picked up on the cherries and earthy bean-ness of this dish, made what the sommelier had said what he though to be a risky pairing, into the perfect pairing. Red with fish, perfect.
Fifth Course: Lamb in Many Forms, Green Curry
Pairing: Delas, Cote Rotie, Seigneur de Maugiron, Rhone 2006
Lamb, Lamb, oh, and, um, Lamb
The final savory course, lamb tongue, lamb saddle, lamb flank, lamb tenderloin, each getting it's own preparation, ranging from meltingly tender tongue to that little crispy nugget of fat. The curried peas and herbs were a great counter point to the richness of the lamb and the crispy bits of dried lamb. There was a distinct cardamom and cumin accent to the flavor profiles that tied all the preparations together. The chosen pairing of a predominantly Syrah wine from the Rhone was clearly a classic play, but, the wine chosen was a beautiful example that played well with the lamb, as well as the normally challenging warm spices used on this dish.
Sixth Course: Guanaja Chocolate, Blood Orange Dipped Doughnuts
Pairing: Maury, Banyuls, Mas Amiel, Roussilon 1969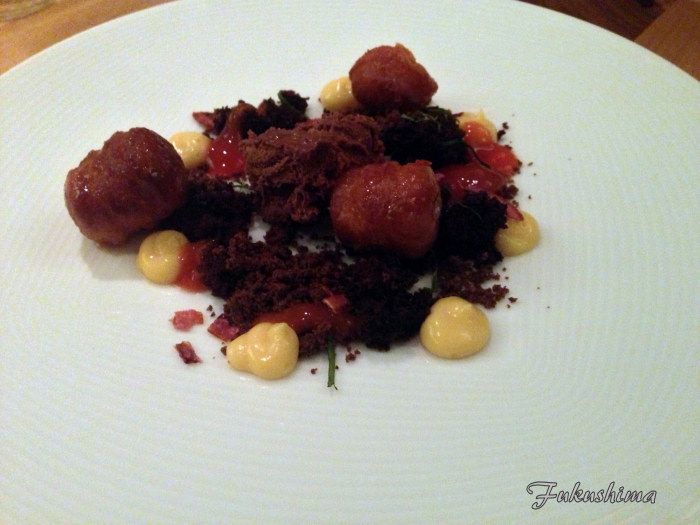 Chocolate! Yay!
This dish was a terrific dessert, the chocolate 'dirt' was a slightly discordant note, but, the doughnuts were brilliant, the orange cream and the ganache in the center of the dish was just perfect. Now, to the pairing, the wine was exceptional as a pairing. However, the wine was brilliant and I think would have been perfect alone. It was an exceptional selection, something that is a rare treat. I truly felt this wine could have been presented on it's own, it was so exceptional.
The dishes prepared by Chef Rotondo showed that there are some amazing things being done in the kitchen of Parallel 37, the restaurant definitely is worth a second look based upon this dinner. Chef Hiroo showed an amazing combination of respect for the food stuffs of his heritage, with the techniques of modernist cuisine seamlessly. This was an unforgettable dinner and effort by the chefs and their staff.