Oh my, this time he is all over the map, yes indeed. I went to the Japanese food store and found some great groceries, which gave me an idea. Actually, several ideas came up, so I bought quite a varied selection of things. Including Spam. Here are the groceries.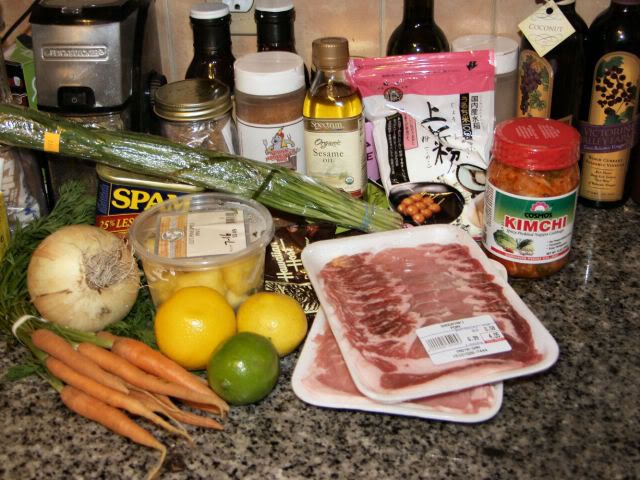 Hey! What is that I see...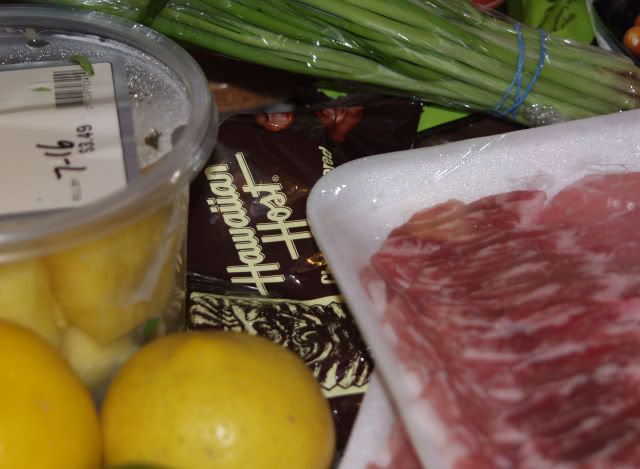 Yes, I bought a small package of Macadamia Nut Chocolates. Yes, I have the self-control of a 3 year old. What can I say. Oh well, back to dinner. Pork inspired by the flavors of Vietnam, minus the lemongrass, which I could not get at the Japanese food store, but, I got garlic chives, time to riff I suppose. This particular store always has great thinly sliced kurobuta pork all ready for use. I bought a couple of packs to be marinaded in this stuff.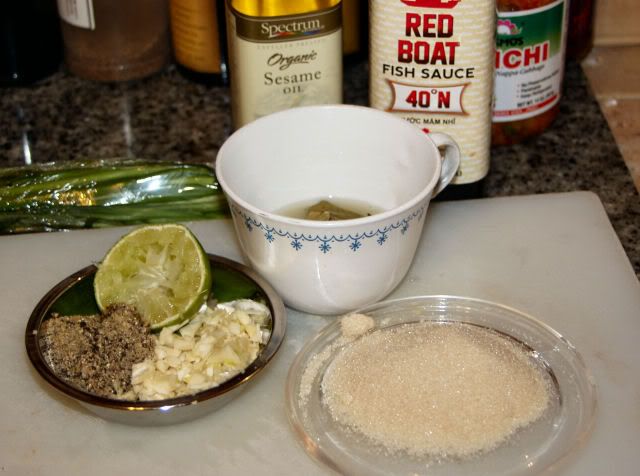 I know, what is all that stuff? Well, here is the recipe...
Viet-inspired Pork marinade
1.5 lbs boneless pork chops
2 teaspoons freshly ground black pepper
1.5 tablespoons minced garlic
1 halved lime rind
3 tablespoons Red Boat Fish Sauce
1 medium-sized sweet lime (squeezed to obtain juice)
1 medium lime (squeezed to obtain juice)
3 tablespoons turbinado sugar
2 kaffir lime leaves
1 teaspoon sesame oil
Pretty straightforward here, just combine and add pork. Allow to marinate for 2 hours. At this point, it is just going to go on a very hot grill and cook until the pork is done and a little charring shows up.
While the pork was marinading, I set up the kettle with lump and some Royal Oak briquettes to get it all fired up. I happened to smoke some Spam at this time, but, that is another story all together. I did prepare the batter for the kimchi pancake and some baby carrots for grilling as well. The carrots just got a good scrubbing, some olive oil and a sprinkling of Red Boat Black Pepper and some smoked salt. These went straight to the grill over the hot charcoal for just a few minutes. I hate over-cooked carrots.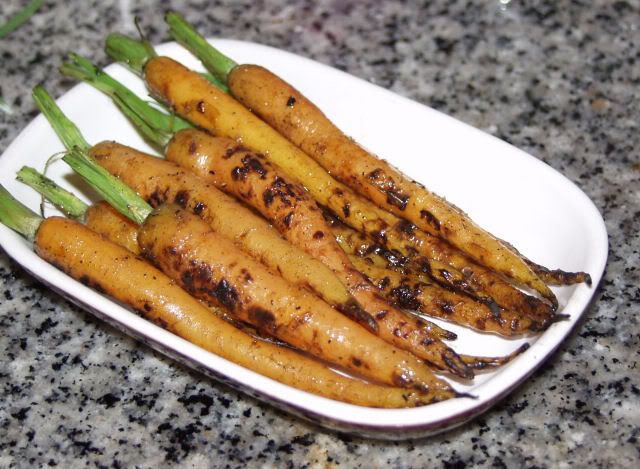 On to the kimchi pancake, this is something I learned about just a year ago, not sure how I can have been eating in Korean restaurants for years and never had this dish, I can barely stop eating when I order it. Here is what I did...
Kimchi Pancake
1 Cup All Purpose Flour
1/3 cup Rice Flour
1 Cup Well Fermented Kimchi, chopped in 1" chunks
4 stalks garlic chives, chopped
1/3 Cup Kimchi Broth
2/3 Cup Water
1 Egg
1-1/2 teaspoon Sugar
1/2 teaspoon baking powder
1/8 teaspoon salt
Mix dry ingredients, Premix liquids and add, mix to pancake consistency, add chopped kim chee and scallions, mix until pancake batterish. Fry until edge is dry, then flip and finish. I wish someone was here when I flipped this, it was a thing if daring and beauty. Once this was done, it was time to plate. First, a little slicing and a look at the texture of the pancake.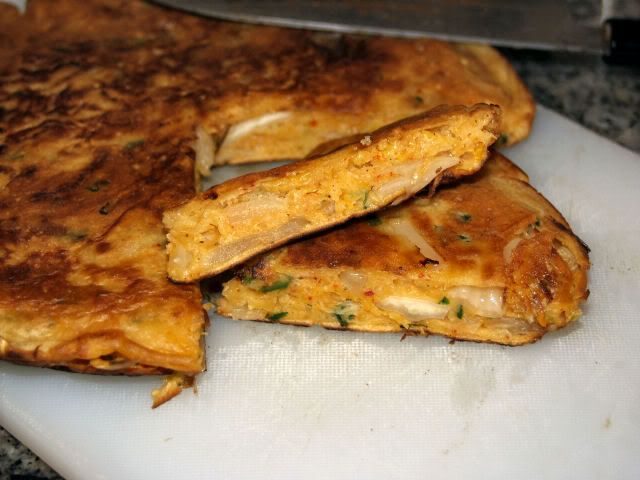 The plating was just a matter of getting a couple of the slices from the pancake, a few slices of the pork and some carrots on the plate. I think this ends up being a decent plate of food. I normally would not each this much starch, but, like I said, I love kimchi pancakes. Oh, I added a little Tonkatsu sauce to add another layer of flavor to the plate.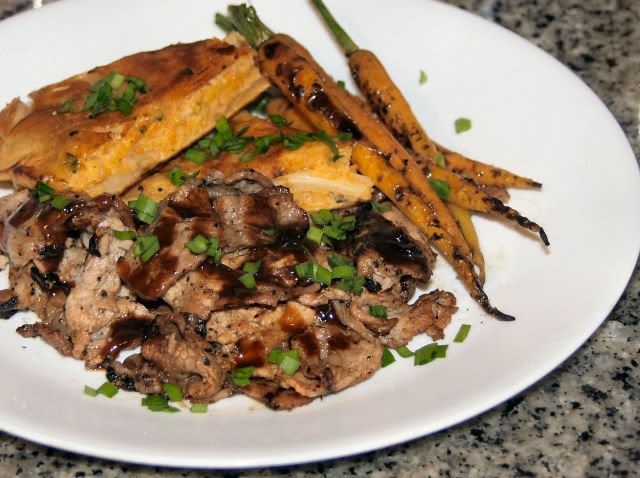 The pork was grilled nicely, very tender as could be expected from the kurobuta sourcing and with a lovely salty/sweet flavor profile with the expected herbal and umami flavor that forms the backbone of many Southeast Asian foods. The black pepper was much more subtle than I expected, while the caramelized portions of the meat and carrots spoke of live fire. And, I think this kimchi pancake recipe was very close to what I wanted it to be. I think I will add more liquid and make the pancake a little thinner next time.
Just a parting shot of a really nicely cooked pork dinner inspired by the flavors of Vietnam, with support from Korea and Japan. Actually, this would also have gone very well over rice or rice noodles as well.