Inspired by a comment from Mai of
Flavor Boulevard
and her question about why neither of us has ever seen a Pajeon made with meat in it, other than crab, I decided the best thing was to try it.
To start off, I considered how to proceed with the batter. Do I add the cold meat to the cold batter and cook as if it is a regular pajeon, or should I saute the meat and green onions first then pour batter over it. Both ways could work, but, since I am wanting a well integrated end product, I am going for all one batter. I decided to go with this recipe. I could go into why three flours, the better crumb of pastry flour and the better rise of bread flour blah blah blah...I ran out of All-purpose flour. Milk instead of water for texture is a bit of an experiment.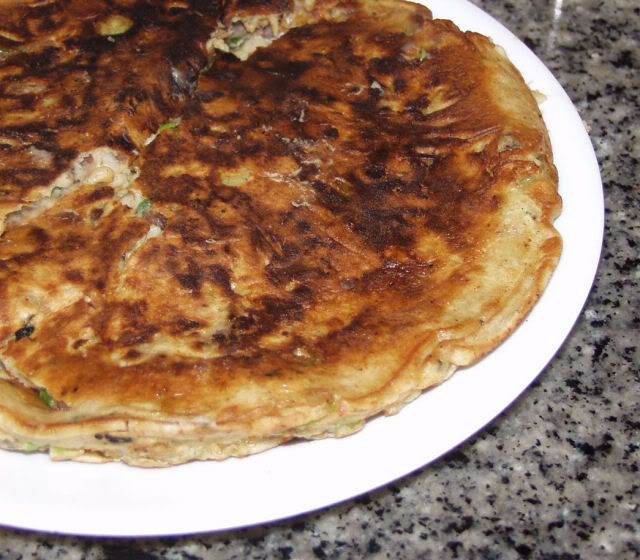 Flippage did not go so well, I am not sure what happened, but, I reinjured my already strained wrist and flipping a cast iron skillet was not in the cards today. Spatulas are not so effective. Oh well, taste will still be good. Here is the texture, which was tender, moist and just chewy enough to be satisfying. In terms of overall flavor, I think I will do this again, but, there will need to be a few changes. I think the beef needed a stronger flavor and I may just go with a less integrated method of batter construction. There is real potential here.
Kimchi Pancake
1/2 Cup bread flour
1/2 cup pastry flour
1/3 cup rice Flour
1/8 cup chopped kimchi (all I had left)
2/3 cup chopped bulgogi flavored chuck ribs
3 stalks green onions, chopped
1 cup milk
1 Egg
1-1/2 teaspoon palm syrup
1/2 teaspoon baking powder
a few dashes of Red Boat Fish Sauce
Mix dry ingredients, Premix liquids and add, mix to pancake consistency, add chopped kim chee and scallions, mix until pancake batterish. Fry until edge is dry, then flip and finish. I wish someone was here when I flipped this, it was a thing if daring and beauty. Once this was done, it was time to plate. First, a little slicing and a look at the texture of the pancake.