Now, you;'re probably wondering what about tr-tip is Pacific Rim, well, it is just that, as I used a rub from the Aloha Spice Company, their Organic Aloha Prime Steak Seasoning and Rub. I received this from a friend, Rob, who was on a visit to the islands, and as he met our friend Roy, this package came to be purchased. Now, the only two things that appear to make this Hawaiian are the fact that it is made there and that it has 'Alaea salt in it. And that is good enough for me, I have grown up with the use of 'Alaea salt as a seasoning, and steak is especially good with it.
I had a tri-tip, a nice Choice Black Angus tri-tip in fact, and it was to be the test vehicle for this. I also decided to break out my Weber Smokey Joe Gold mini-kettle. This was a gift from my brother, and I have been meaning to run a cook on it. So, the tri-tip was liberally covered with the rub, wrapped in butcher paper and allowed to sit while I fired up the mini-kettle.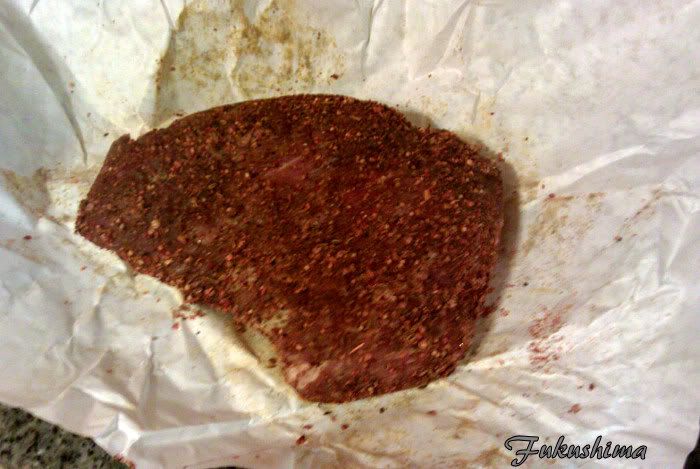 Rubbed up
From here, the kettle was filled with lump, fired up and allowed to come to temperature, which was around 225F, indeed, I would do this low-n-slow up to 115F internal, at least that was the plan. The kettle-ette was rocking in no time, I am already seeing benefits here. So the meat hit the grate.
Meat On!
So, the texture of the rub is a little coarser than I normally like, I prefer a medium grained texture and no whole spices, but, it was a gift and deserves and open mind. You can see it gets a great color and there are a lot of spices present. The kettle was closed and about 30 minutes passed, a quick flip and another 30 minutes, check internal, 100F, okay, another 10 minutes, 135F internal WTF!!! Off the kettle. No sear. How did it climb so fast? There must have been operator error here.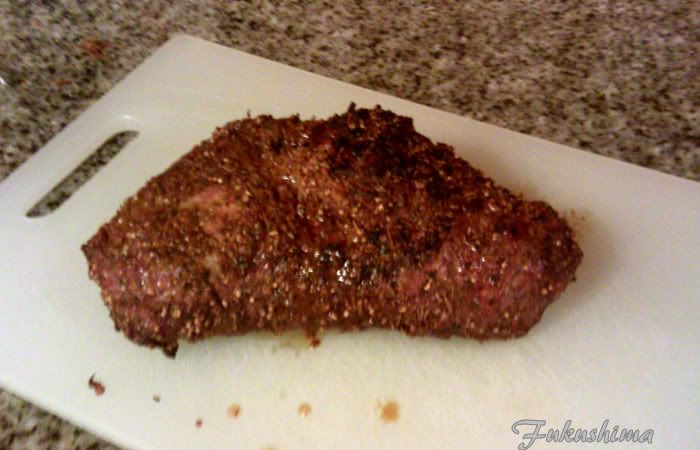 Meat Off! Meat Off!
Well, just in time, off to rest under a foil tent for 20 minutes. You always want to let the meat rest, a small cut like this, 20 minutes is perfect. You could go longer actually. In any event, a few slices and here it goes, a nice medium in my books. I was hoping for medium rare, but, well, operator error is what it is.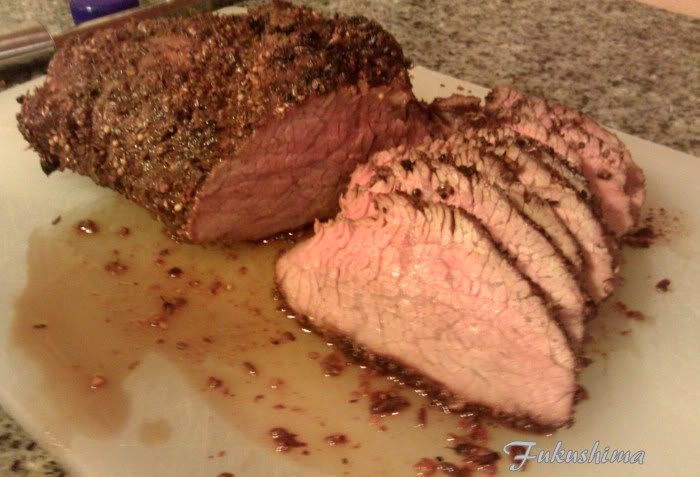 There was plenty of moisture left in the meat, it tasted great, with the beef still from and center, but, the edges had a great balance of spices and salt, a very nice nip of chile and black and white pepper, this is a good rub. It was a little too coarse, but, I will use it again. Glad I have some more.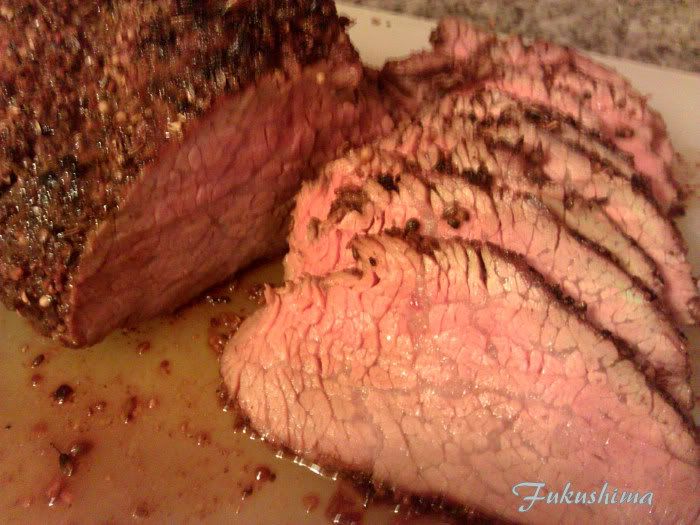 A close-up
There is nothing easier than working with good meat in a kitchen, and this cut did not disappoint. I know many folks are tuning in to the fact that even with a Certified Black Angus label, not all Angus beef is really from true Black Angus cattle. Since the ranch this is purchased from offers registration and tracking of it's animals, the lineage is a true Angus. With great beef and a very good rub, dinner tasted great. That meat was as tender and moist at the photos look.