I made some pulled pork, a very traditional version of hickory smoked pulled pork which I documented at
Bob's Brew and Que
. I decided to have a little fun and test out my new waffle iron which I received for Christmas.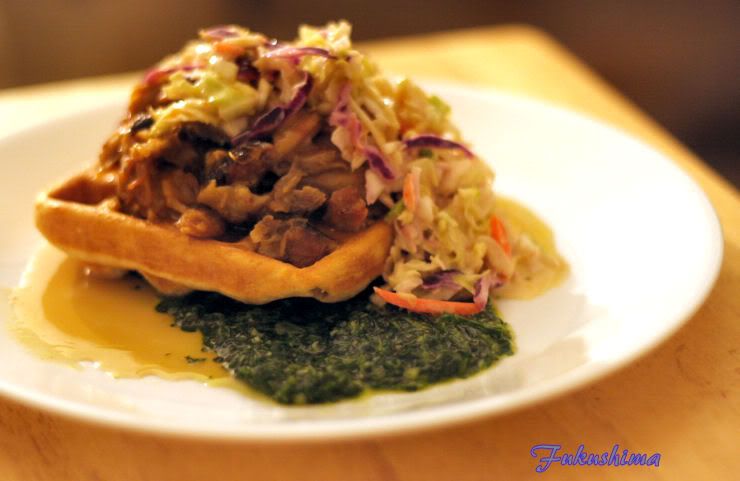 I made a maple mustard BBQ sauce, which was this:
4T Cider Vinegar
2T BBQ sauce (I used Big Butz Original)
2T prepared mustard (Beaver Picnic Yellow)
3T maple syrup
1T ketchup
1t palm sugar
All mixed together and then poured into a pan with a handful of the pulled pork to heat and combine. After sauce reduced and got sticky, I added 3 tablespoons of water and let it heat through again.
I made a basic waffle batter, this was put onto the waffle iron and slightly overcooked beause I did not read the instructions. That would have helped.
I also made some pesto, which involved snipping some Italian parsley, baby arugula and grating some Grana Padano cheese into a bowl and going at it with some koshjer salt and olive oil to create an herbal mush, more olive oil and a clove of garlic which was 'cut' with some garlic. Basically, I like to take garlic, smash it, then cover it with salt and scrape the salt and garlic back and forth with a pastry scraper. It was all then pounded into submission with a pestel in a steel bowl.
I also made some cole slaw, it happened to be made with home made mayonnaise, as I was out of store bought and making it was easier than going and buying some. This was a very basic cabbage cole slaw with a cider vinegar pickle for one day, then dressed with the mayonnaise.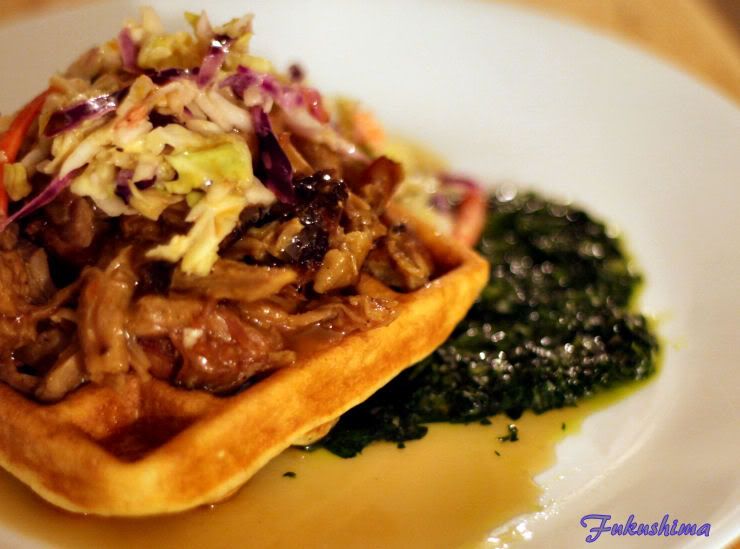 Close-up showing all the components
Anyways, it was all assembled and dressed up with a little maple syrup too. I decided the pesto would be a good herbal/savory counterpoint to all the sweet, the cole slaw was for crunch and a little bite, the pork and waffles because they are delicious.