I decided to cook a chicken today, but I wasn't planning on doing a UDS cook, so it had to be kettle cooking. But then! I was asked by a friend if I could fire up the UDS for some pastrami he had made, well, my back is wiped, but, if someone else does the lifting...why not
So I prepared smoked then grilled chicken, an odd combo, but, take a look.
First, my standard whole pasture raised, free range, air cooled, chicken, spatchcocked washed and rubbed.
Spatchcocked chicken
Rubbed up bird, here is sort of what I did.
2T medium black pepper, Phu Quoc Black pepper
2T kosher salt, Redmond Real Kosher salt
1P each dry mustard, clove, allspice, cinnamon, nutmeg, chile powder
each was a healthy pinch
Mix and applied over a rub of garlic and olive oil.
This was placed on the smoker for one hour at 225F. Then moved to the kettle running at 225F. It was cooked over indirect heat for 15 minutes, then the kettle was opened, coals spread over half of fire grate and it was cooked direct for 3 minutes per side. It was then put onto the side where the coals were not and cooked a final 10 minutes covered.
Onto the kettle and allowed to cook a little more, all this was done by feel. Each time I opened the lid, the bird got a baste of my glaze.
Bob's Katonk Huli-huli glaze:
1/2 cup coconut vinegar
1/2 cup shoyu (Japanese soy sauce)
1/4 cup Red Boat Fish Sauce
1/4 cup ground palm sugar
1/4 cup turbinado sugar (medium grain, not table sugar)
1 tablespoon ginger, fresh grated
1 star anise, whole
Heat to dissolve sugar and concentrate liquid, cook, it will be like a thin syrup. Glaze onto chicken as least 4 times.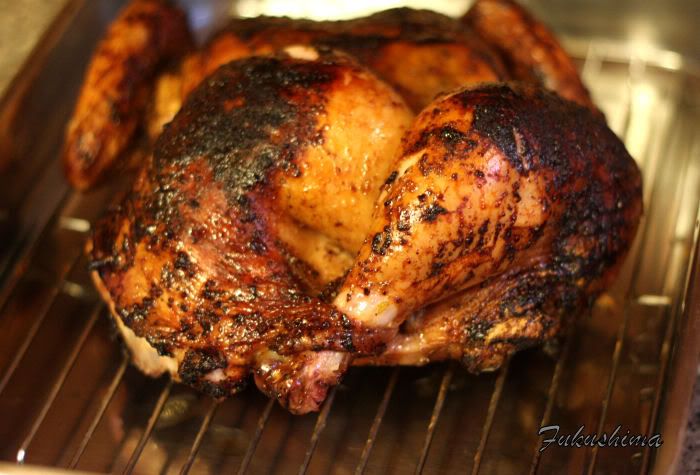 Not plated, but, put on napkins, cause this is street food, and there would be no plates.
Overall, this chicken was better than it looked, cooked just until medium, it was juicy and tender, the flavor has some great depth and just a little heat, the glaze was sticky and caramelized beautifully with just enough char to let you know fire was involved. About that name? Huli Huli Chicken is a standard of Hawaii that is rapidly being killed off by the same regulations that are making street food so difficult to maintain here, but, the katonk part? Well, I am not Hawaiian and I totally riffed the flavors with what I know of the Hawaiian palate, and I am a Katonk, ya know if ya know.