One of the most important holidays for my family is New Years. Although we have switched from the tradition of a the Lunar New Year, to the American New Year, we continue to observe and celebrate some of the traditions of the Japanese Observance. One of these is to gather with family and enjoy the day, as well as to remember the past year. This year, we were fortunate enough to again be joined by my two elderly aunts, the last of their generation in our family. Now both in their 90's, it was nice to have them there with us. My sister and brother and their families, along with cousins and friends joined us as well.
Although I will do a couple of more detailed posts, here is the small feast we laid out for New Years Osechi Ryori.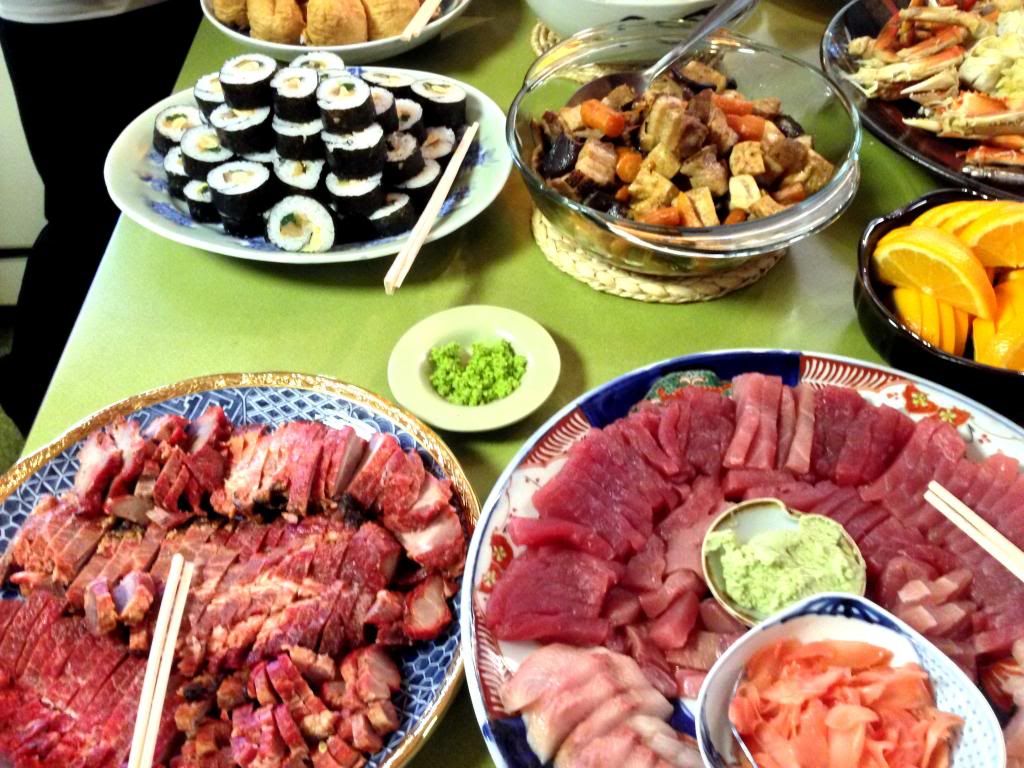 Here, you can see that there were a few meats, Chinese BBQ Pork (cha siew), some Maguro and Hamachi sashimi, Futomaki and Braised pork belly stew. That small dish in the middle is true fresh ground wasabi, nothing you have had, from tube or powder gets close.
In this picture, you can see that Futomaki (sushi rolls), along with Kitsune sushi (inarisushit), Sugar cured cucumber (Tsunemono), Oden (a fish stew), Teriyaki Chicken and some fresh crabs, and again, the braised Pork belly stew.
There were other dishes, such as kuromame, a traidtional food for good health, various salted and mirin-cured vegetables, most of which have some association with good luck or good health. Pork belly is a rarity, but, would have been most common as a winter food, as it would have been most common for slaughter to happen in late fall. The oden is another traidtional dish, and really represents Spring and rebirth, with the use of spring vegetables, such as bamboo shoots, fuki (coltsfoot) and renkon.