I was browsing the produce aisle at one of my favorite markets, and chanced upon two ingredients that really shined, one was baby broccoli and the other were these great looking organic Russet potatoes. A note on that, in general, if I am cooking, I really work at buying roots and tubers that are organic, I feel that in particular, these crops benefit from the practices that small organic farmers provide for these crops. These Russets looked so good, it was clearly time for croquettes.
The Japanese love croquettes, and these are the types that I love to make. Typically aromatics and vegetables support a meat, blended into the mashed potatoes and then panko-coated and deep fried.These have finely chopped onions, finely minced garlic, and some line caught albacore tune. I prefer the taste of albacore, and smaller line caught tuna offer benefits of lower mercury and lower impact on fisheries. I also added an egg for binding.
Potato mixture on Sushi-su
The potato mash was prepared, and I added a little butter, fine sea salt and ground pepper, the potato has to taste good first, then everything else was added. One of the tricks I like to use to shape and make the process of breading easier is to form the potato mixture into a tube, I use my sushi-su for this, it really comes in handy for so many tasks other than rolling sushi. I then refrigerate the potato mixture to firm it up.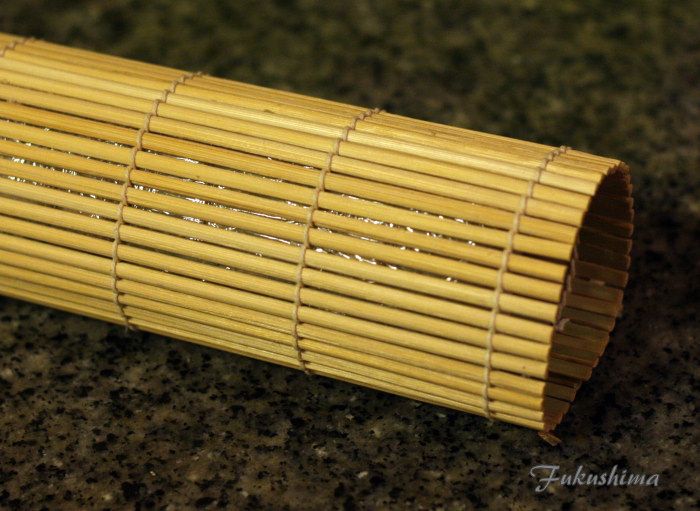 Once it has gotten cold, I press it into a form, or simply mash then roll while still in the sushi-su, so that it is oval shaped. Then it is simple to slice, flour, egg wash and panko. I let the panko-coated croquettes rest so the breading will bind to the potato. This helps keep the coating attached to the potato. Once shaped and rested, the croquettes were shallow fried in grapeseed oil and canola oil, the key is to keep the oil at a moderate heat. It has to cook through the potato and heat everything while not over-browning. After frying, the croquettes are drained.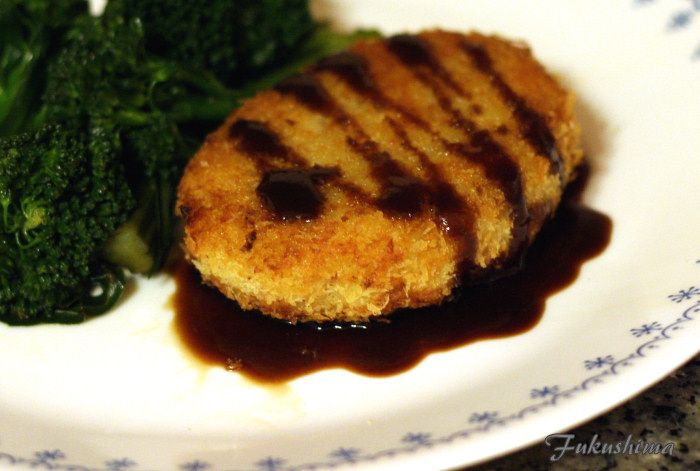 Plated with Tonkatsu sauce
I plated the croquettes with the baby broccoli, which was steamed until just soft, then chilled in a mixture of shoyu, sugar, togarashi infused toasted sesame oil and a little sherry. This is served ice cold to offset the hot, rich and aromatic croquette. A little tonkatsu sauce rounds out the plate.
The interior, buttery, aromatic
The texture of my croquettes are a little rustic, I don't like super smooth ones. The contrast of the cold greens with the hot croquettes covers so many flavors and textures, a perfect riff on a modern Japanese snack classic.
Croquettes:
4 medium Russet potatoes
1 tablespoon sweet butter
1/2 cup onion (I used a yellow onion) finely chopped (1/8:)
1 large clove garlic, minced to paste
1 can albacore tuna (I used Wild Planet Line Caught Albacore)
Fine sea salt and fresh ground black pepper to taste
1 egg
Steam potatoes until softened and easily mashed. Mash by squeezing to create a lumpy texture. Add next four ingredients and combine gently. Add flaked albacore and taste, correct for salt and pepper. It has to taste good at this point. Add 1 beaten egg, I like to add a teaspoon of water to the egg and then beat with a fork. The water helps the egg combine smoothly.
Wrap in plastic wrap, and form into a roll. Refrigerate until potato sets. Once the potato is set, roll in to form a oval tube and slice, or press into oval croquette forms. Dredge slices in flour, then brush with egg whites, and dredge in panko. Allow to sit for 15 minutes to 30 minutes.
Shallow fry in moderately hot oil until golden brown on one side, flip and finish cooking. Drain and serve.