I decided to make some corned beef smoked in the kettle as an early celebration of St. Patricks Day. Plus, a little pseudo pastrami is always tasty. I have to give a shout out to my friend Thirdeye at
Playing with Fire and Smoke
, his blog has some great recipes and tutorials on cooking over live fire. I borrowed liberally from his blog to cook the corned beef.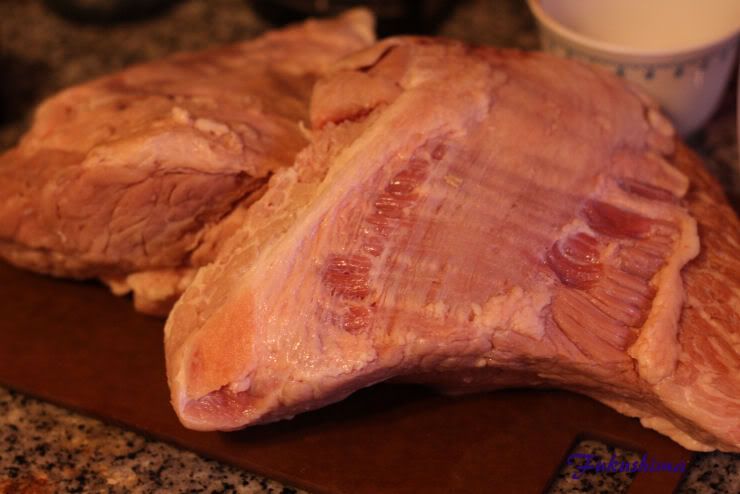 I started off with a couple of pieces of commercially available corned beef, which I soaked in clean water for 2 days. I ended up changing out the water 4 times during that period of time. The final soak ended with the water having almost no detectable pink color, which I took to mean the curing salts had leached out as much as possible.
I prepared a rub using the packet of spices from one of the corned beef packages, which I ran through the grinder on a medium setting. I added medium grind black pepper, ground allspice, ground cloves, ground mustard and palm sugar. To be honest, I did not measure them all, but, black pepper was probably 2/3 of the total blend. This was rubbed onto the soaked and dried corned beef chunks.
Rubbed Corned Beef
The corned beef was put onto the kettle, which was running along at 225F, in the rain, so moisture inside the kettle was not going to be a problem. This ran for 3 hours at 225F until the internal temperature was 150F. I decided to put the meat on a rack in a shallow pan, this was to provide a little bit of heat shielding during the unfoiled portion of the cook.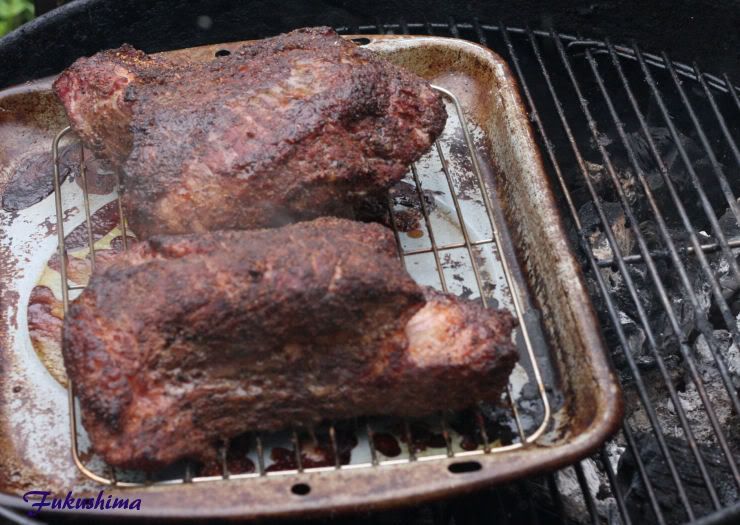 Meat at 150F
The meat was then wrapped in foil, and some moisture was added to keep things from burning or getting too dry inside the foil. The liquid ended up being 1/8 cup each of Red Boat Fish Sauce and liquid amino acids and 1/4 cup of water. My hope was to add some additional flavor and get that umami punch from the fish sauce and amino acids.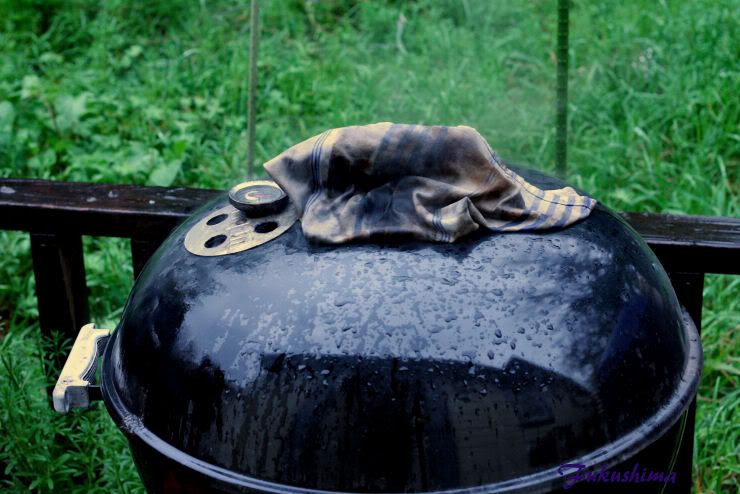 Raining, who stops cooking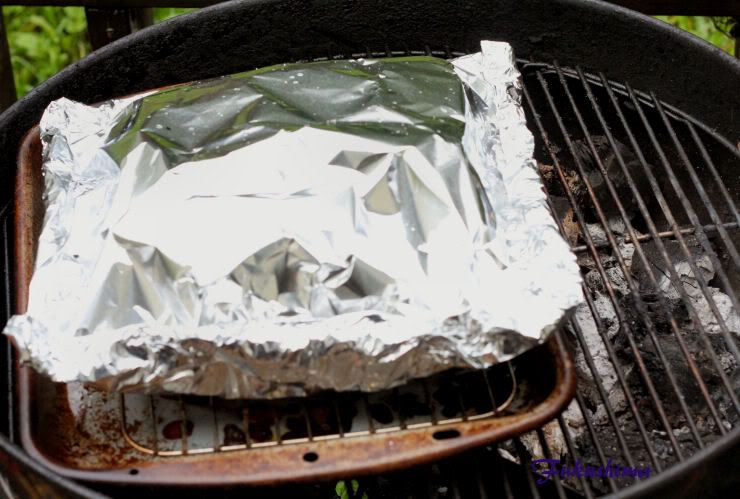 In the foil
The meat cooked in the foil for 1 hour at 225F, then I shut down the cooker and let it coast to a rest for 30 minutes. The meat was then pulled and allowed to rest without the steam. Initially, there was a whiff of the fish sauce which was a little concering, but, it dissappated and was replaced with the aroma of apple smoke and pastrami.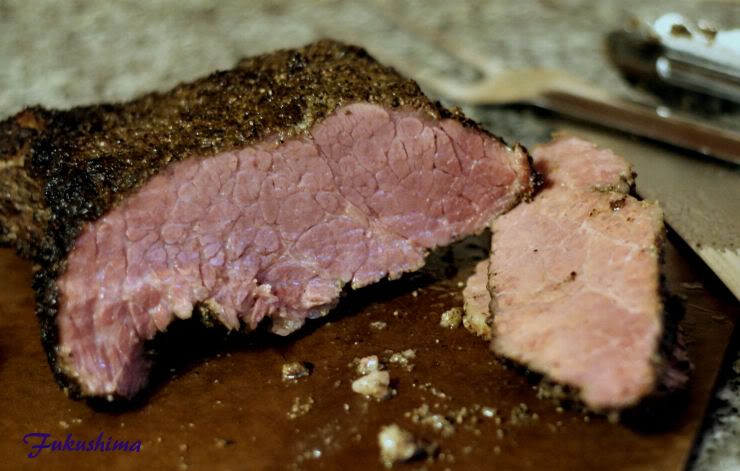 Sliced Smoked Corned Beef
Here is a shot of the sliced corned beef, showing the pink color and the breakdown of the connective tissue. This was looking good. But, I forgot to buy bread. Problem, solved since I love rice with corned beef, why not with smoked corned beef?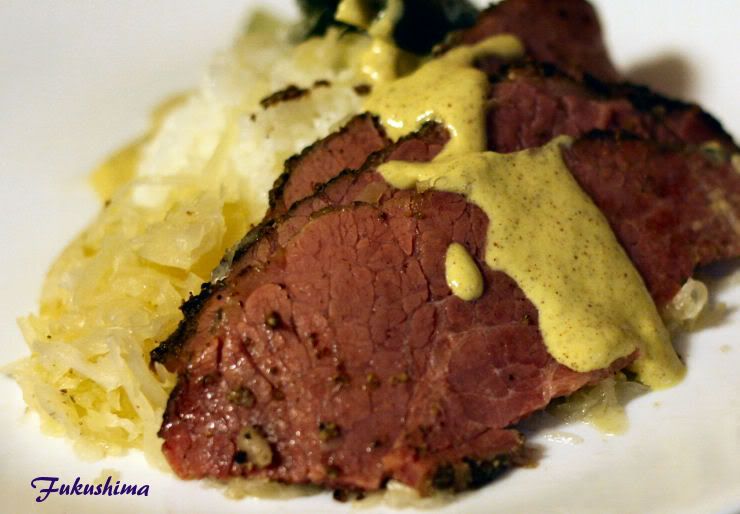 Plated
Why not a deconstructed pastrami sandwich, with rice instead of bread. I did make a nice mustard sauce, with a little mayo, hot sauce, sauerkraut juice blended in. It has a nice mustard and chile bite. The sauerkraut was added in, some steamed rice and the smoked corned beef. This was a good plate of food. Then it hit me...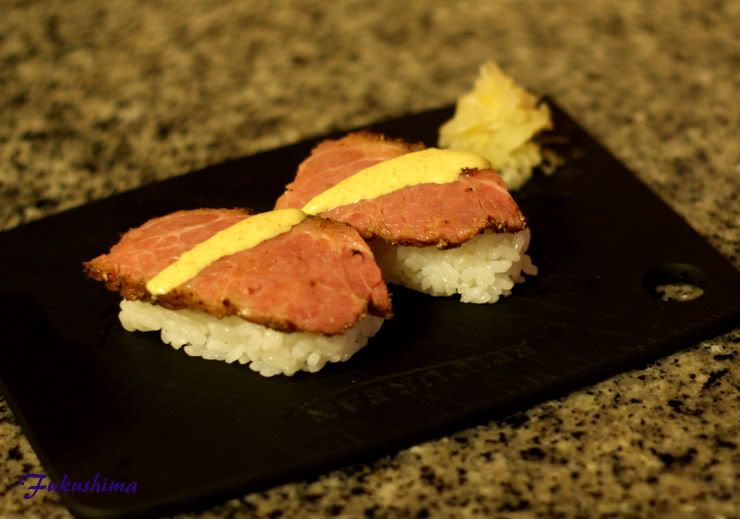 Really? Sushi?
Only a lunatic would think this was a good idea, but, it seemed like a little quick work with some coconut infused white balsamic vinegar would give the necessary sugar and sour bite to make some sushi rice. Then a little mustard sauce on the rice, some slices and then a drape of the same mustard sauce. A little sauerkraut in place of grated daikon and there you go. Weird, yes, indeed, but it tasted really good.